World TeamTennis commissioned acclaimed pop artist Blake Jamieson to paint original pieces of artwork which WTT presented to the New York Empire's Neal Skupski and the Philadelphia Freedoms' Raquel Atawo – WTT's Male and Female Most Valuable Players presented by Forevermark – at the U.S. Open in Flushing Meadows, NY.
Jamieson works with celebrities, professional athletes, and tech founders to create vibrant, one-of-a-kind works of art. For more information on Jamieson and his artwork, visit www.BlakeJamieson.com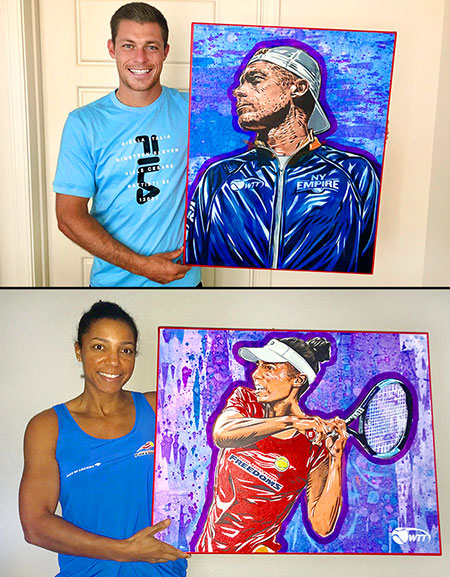 World TeamTennis' year-end awards were announced before the WTT semifinals in Las Vegas on Aug. 2. In addition to being named WTT's Male and Female Most Valuable Players presented by Forevermark, New York's Skupski and Philadelphia's Atawo each received a one-carat diamond from Forevermark.
"I absolutely love the artwork that Blake created and am honored to receive it," Skupski said. "It will have a prominent spot in my home and will serve as a permanent reminder of the amazing 2019 season we had and our run to the WTT final."
"Wow! I was blown away by the detail and the artistic beauty of the artwork," Atawo said. "To have won the WTT league MVP and be presented with the artwork that Blake has created is indeed one of the highlights of my professional tennis career."
San Diego's James Ward and the Orlando Storm's Whitney Osuigwe earned WTT's Male and Female Rookie of the Year honors. Philadelphia's Craig Kardon won WTT's Coach of the Year for the second consecutive season in guiding the Freedoms to a second consecutive regular season title.
The 2019 World TeamTennis season concluded on Aug. 3 with the Springfield Lasers repeating as league champion following a 20-19 comeback victory over the New York Empire at the Orleans Arena in Las Vegas. Springfield doubles specialist Robert Lindstedt was named 2019 World TeamTennis Finals Most Valuable Player presented by Forevermark and received a one-carat diamond from Forevermark.
WTT introduced professional team tennis to the world in 1974, with Billie Jean King famously serving as its co-founder. World TeamTennis is one of five active U.S. pro sports leagues which has been in operation for over 40 years, along with the NFL, NBA, NHL and MLB. For more information on World TeamTennis, be sure to like and follow us on social media and bookmark WTT.com.
Video: Behind-the-Scenes with Blake Jamieson