By Geoffrey Young, 2019 WTT Junior Nationals Kathy Willette Leadership Scholarship Winner
Spending my entire childhood playing tennis, wanting to compete at a national level became one of my goals. World TeamTennis (WTT) Junior Nationals made that goal a reality by being selected for the 2019 USTA Northern team. WTT gave me an opportunity to realize what great relationships can be formed, the level of competition at a national event, and how sportsmanship matters most.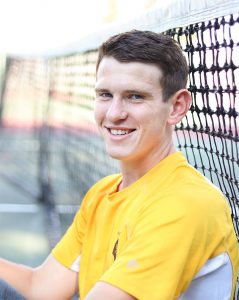 My normal pre-match routine had me pacing the airport chairs, not talking to anyone, and wondering who these three strangers would be playing next to me. Standing on the court, sizing each other up, left three awkward players needing to find some commonality. Tennis being the language we all spoke; it took one match to bond as good friends. After a day of matches, our bond solidified cheering for one another rather than gauging who's better.
Some of us had things in common that weren't tennis. For example, my teammate, Miriam Shteyman, and I both play the bassoon! Having things in common off the court strengthened our connection on the court.
New teammates weren't the only new relationships created during these three days. Having been coached by my father the majority of my life, meeting Gordon Reid for the first time left me confused as to how to relate to a new coach. Fortunately, he was really personable and laid back and after talking to him for a few minutes, he felt like a mentor to me. He changed the atmosphere around him positively everywhere he went. Meeting these new teammates showed me that on the outside, we're all different but on the inside we're all the same.
Coming from North Dakota, only about 20 different people play against me in tournaments. Getting to go to a national event elevated my drive to improve yet humbled me. In North Dakota, I'm one of the top players, but at WTT, I was nowhere near a top player. Playing against people at such a high level opened my eyes up. In my first singles match, my opponent won 6-0, taking me four games to win one point. Although I'm the big fish in North Dakota, I'm just a small fish in a big pond everywhere else.
Sportsmanship outweighing the sport was a life changing experience for me. Before play started on the first day, our coach told us that sportsmanship comes first and that the wins will follow. At one instance I was playing a guy who wasn't a good sport at all, plus he was destroying me. He was being obnoxious when he probably shouldn't have been. After this experience I learned that sportsmanship is more important than the outcome of the match.
As I look towards graduating high school and searching for a college to play tennis, I'll use these experiences to guide me. Meeting new people, opening up to those new people, new experiences, and that one learns more from failure than being on top were all accomplished in these three days.