By Alysha Damron, 2019 WTT Junior Nationals Kathy Willette Leadership Scholarship Winner
When driving to the WTT Junior Nationals, I hardly knew anything about the event. What would take place over the course of those three days including the structure of the matches and events were foreign to me. I was terrified and excited all at once when I arrived at the San Diego Aviators' courts for the first team practice. Unbeknownst to me, I would make incredible friendships and unforgettable experiences that I know I will cherish for life.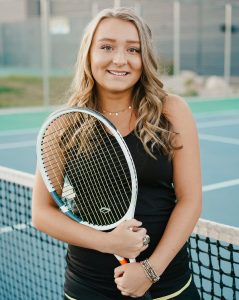 Throughout the drills of the first practice, I was tense and overthinking everything. I had just met my teammates and was tremendously intimidated by them. This tightness and worry continued over into the first couple of games of our team's starting match. Over time, however, I began to loosen up as my teammates started cheering me on.
Having three girls and three boys on the team was valuable, because there were always at least two teammates supporting my match. I learned that in order to play my best and enjoy the moment, I needed to relax and refrain from feeding into my own self-doubts and anxieties.
Watching my teammates' matches and playing my own both helped me embrace and participate in the cheering that I normally don't experience in regular tournaments and I saw how crucial it was to the overall results and atmosphere.
While dealing with a different environment including elevation, humidity, new players, and a new format within matches, I learned how to become comfortable despite being out of my element. Each match was fast-paced because of it being only a set and no-ad scoring. Additionally, substituting players was permitted. This format taught me to be more aware in the match and fight harder for each point as it didn't matter whether you were behind or ahead because something could always change in a split second.
Through the encouragement during matches and fun we had during numerous team bonding activities, I gained special friendships and a new support system I never expected. Our Intermountain team stayed connected even after the three days were over. Still months later, I get support from them. We update each other on various things in a group chat and I continue to receive texts from them wishing me good luck in tournaments. Additional support came from our team's coach when he donated to my high school tennis team fundraiser. Also, within several sectionals and a national tournament, I have played doubles with one of the girls which wouldn't have happened if it weren't for our experiences playing together during our WTT matches. The support and friendship I found will always be treasured.
I am immensely grateful for the opportunity I had to participate in the 2019 World TeamTennis Junior Nationals. The friendships I made and lessons I acquired truly made it a life changing three days. It has been an experience that I will never forget and think of fondly, often.